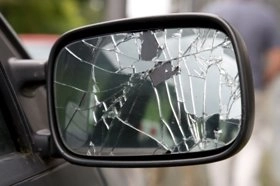 Side mirrors are not only a key safety feature for all vehicles, they are also prone to damage because of their position on the vehicle. If one or both of your side mirrors have been damaged, DeDona Auto Glass in Greensboro, NC can help.
While out on the road, your side mirrors play an important role in your ability to spot traffic, pedestrians or other objects to the side and rear of the vehicle. Missing or cracked mirrors not only make spotting objects more difficult, but also may put you and any occupants of your vehicle at serious risk. Vehicle with broken or missing mirrors will also not be able to pass NC safety inspections until they are repaired or replaced.
If your mirror assembly is still in good shape but with cracked or chipped glass, we can usually replace the mirror glass itself without having to replace the entire mirror. If your vehicle is missing one or both side mirrors altogether, or if the mirror's electronic motor is no longer functional, we can replace the entire mirror assembly. DeDona Auto Glass proudly uses products from Burco Inc. in all our side mirror replacements, guaranteeing superior quality and reliability for our customers.
Our side mirror repair and replacement can only be performed in-house at our shop, and is not available with the mobile auto glass service.
If you'd like more information or wish to request an estimate, give us a call at 336-851-1380 or fill out our web contact form.