Auto glass is one of the most important features of your vehicle. Maintaining not just your windshield, but all of the glass on your automobile is crucial to the safety and performance of your vehicle. Your side mirrors, rearview mirror, power windows and rear glass should be in good working order and free from chips or cracks for maximum visibility and improved safety.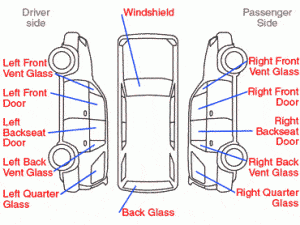 Windshield: We all know how important it is that the driver has a clear, unobstructed view out of the windshield. Cracks and chips in the glass can impede his vision. Because the windshield is essential in protecting the passengers should an accident or rollover event occur, it should be in good working condition at all times. Damage to the glass can compromise the safety of the vehicle.
As soon as you notice a chip in your windshield, take it to an auto glass specialist for repair. Often, small areas of damage can be repaired, saving you from a glass replacement. Insurance will often pay the full amount of the repair so there is no out-of-pocket expense to you. If the damage is too large for a repair, the windshield should be professionally replaced.
Side Mirrors: These mirrors help you see what is beside and behind you. They are helpful when changing lanes or to see pedestrians that may be approaching your vehicle. Because of their position on your vehicle, they are prone to damage. If your mirror assembly is still in good shape but with cracked or chipped glass, the glass itself can usually be replaced without having to replace the entire mirror. If your vehicle is missing one or both side mirrors altogether, or if the mirror's electronic motor is no longer functional, the entire mirror assembly must be replaced.
Rearview Mirrors: Drivers use their rearview mirror to see what is going on behind them without having to turn around.  Like the side view mirrors, this mirror is a vital safety feature on your vehicle.  It allows the driver to know what vehicles are approaching from behind without taking their attention off of the road in front of them. Rearview mirrors are also useful when backing out of parking spaces.  Sometimes this mirror becomes detached from the windshield and needs to be reattached. If the glass becomes shattered, the entire mirror must be replaced.
Power Windows: Most modern cars and SUV manufacturers offer power windows as a standard feature on their vehicles. Drivers and passengers like them because they eliminate the need to manually rotate a crank handle to open and close a vehicle's windows. Over time, components like the regulator and motor may need to be replaced or repaired if not working properly. It is important to have power windows that work well and do not stick in case of an emergency.
Rear Window: Just like you need a clear view out of the front of your vehicle, it is important that you are able to see what is approaching you from behind. Although not as common as windshield damage, road debris and rocks can hit your back window and cause chips or cracks in the glass. It will need to be repaired or replaced to ensure that your vision when driving and backing up is not obstructed.
Before you have any of your auto glass repaired or replaced, make sure that you are working with a reputable company who is experienced in working with all types of glass. Be sure to ask about a warranty and find out if they will help you with your insurance claims.
DeDona Auto Glass in Greensboro, NC is the area's leader in auto glass repair and replacement. Contact us for a free quote or call us at (336) 851-1380 to schedule an appointment.