Over recent decades, automotive glass technology has seen many improvements, and we're about to cover one such improvement first introduced in the 80's that has recently begun to pick up steam. As automakers look for more safe and innovative ways to deliver information to the driver, they're beginning to push this technology into the mainstream which means a whole new way of looking at your windshield. Welcome to a new age of high tech driving with the heads-up display (abbreviated as HUD).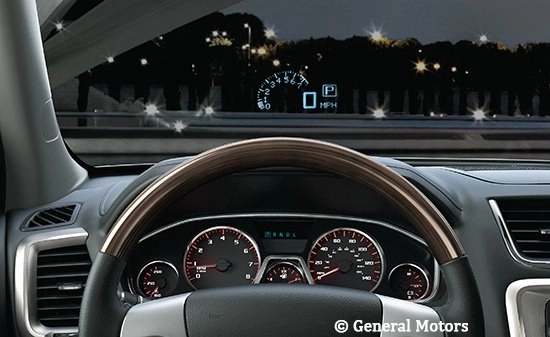 What is a HUD?
The heads-up display gets its name from the design purpose – to present information to a pilot or driver without requiring them to look downward or to the side in order to receive that information. HUD technology has been used in aviation for many years, and now it is finally being revived once again in the auto industry as a more advanced, affordable and user-friendly option. The hope is that this feature, like back-up cameras, will become a mandatory feature in the near future.

What are the benefits?
The goal of the HUD is to provide you with instant information, so that you don't have to look down at your instrument panel while driving. While that may seem like a distraction, looking away from the road to check the speedometer or other gauge is a much greater distraction that we all deal with day-to-day. By presenting information subtly but noticeably within your field of vision, you can still keep your eye on the road the whole time.
Information reading from the speedometer and tachometer are only scratching the surface though; automakers are thinking much bigger. More advanced systems will be able to outline or trace the edge of the roadway in low visibility from inclement weather like heavy fog, allowing you to anticipate an upcoming bend in the road.  As the technology develops, these systems will even be able to indicate signage and provide other intelligent alerts if visibility is dangerously low.
Other information can be conveniently displayed as well, such as stereo info, vehicle warnings, turn signal activation, external and internal temperature, as well as GPS navigation. HUDs are also designed so that the driver can increase or reduce the brightness of the display, reposition the display, or turn it off completely (in other words, the feature is not forced on you if you don't want to use it, which is a relief).

Does this system require a high-tech windshield?
The beauty of the HUD system is that the windshield is only used to reflect information, at least in current offerings from companies like GM. The information is projected from within the top of the dashboard through a series of mirrors, and reflected off the interior surface of the windshield. If the windshield is heavily damaged, you won't have to replace a prohibitively expensive piece of engineering in the process. However, windshields designed for use with a HUD system are specifically designed for such a purpose, being specially coated to clearly reflect HUD imagery to the driver.
Further advancements in heads-up display technology are constantly ongoing. The goal eventually is for HUD technology to mature into a system using data gathered from an array of vehicle sensors and cameras, and project images generated by compact ultra violet lasers directly onto the entire surface of the windshield. With a system like this, the entire windshield would become a canvas to display relevant information from navigation, low visibility assistance, landmark and destination display, and perhaps even social media and more interactive functions.